Combine the strength of aluminum composite material with a beautifully smooth, coil-coated finish. Ensure color consistency and durability with our extensive colors and finishes. Transform aluminum composite material, pre-painted sheet and bonded sheet for outstanding aesthetic design.

Our standard and customized colors and finishes offer endless possibilities. Choose from soothing neutrals, shimmering silvers and everything in between. With an unrivaled portfolio, the only limit is your imagination.

Our colors and finishes combine beauty with strength. The paint we use is resistant to corrosion, UV and weathering and comes with a 20- or 30-year warranty. Our aluminum sheets deliver eye-catching designs with superior performance and protection.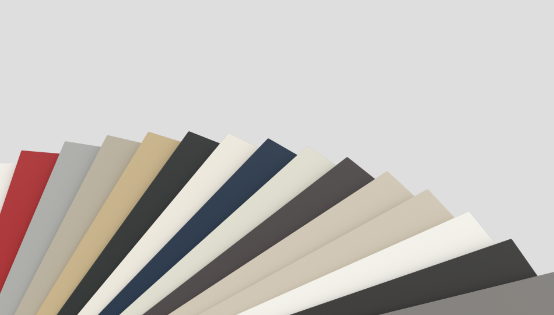 Colorweld® 500/500XL Finishes
From soothing neutrals to shimmering silvers, Colorweld® 500 and Colorweld® 500XL finishes feature advanced resins with 70% polyvinylidene fluoride for superior performance.
From bright oranges and dramatic blues to metallics, Colorweld® 300 finishes are distinctive, colorfast and durable, utilizing 70% PVDF resin technology.
Design LineTM is inspired by Mother Nature and mimics natural materials, while providing all the performance benefits of Reynobond® Composite Material.
Brushed Aluminum Finishes
Brushed Aluminum finishes combine natural beauty with high performance for sleek, contemporary and highly attractive aesthetics.
Explore bright color capabilities and a range of gloss levels with Duragloss® paint with a premium palette of colors in standard, metallic and opaque finishes.
Anodized finishes provide Reynobond® Composite Material with a harder, smoother layer that is resistant to abrasion.

Achieve a brightness like no other with Brite Mirror. With 87% reflectivity and mirroring properties, this premium coating is inspired by the unique shades and colors of the ever-changing sky and nature.